MTC Berea Memorial Day Jackson Family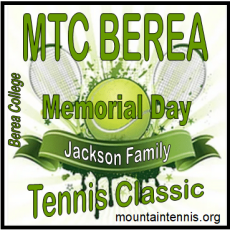 This tournament is one of the Mountain Tennis Circuit's most popular
Tournaments. Held on Memorial Day Weekend, this normally is the MTC's
first tournament of the year.
This tournament is open to all tennis players.
You do not have to be a USTA Member to play in this tournament
although, we encourage all tennis players to join the USTA.
Come and enjoy the wonderful Berean hospitality!
Come and enjoy our beautiful Wilson Evans Tennis Complex on
the Berea College Campus.
Come and have a fun day at our family oriented tennis tournament.
Internet Times
We post all times on the internet as a convenience only!
You are responsible for your own times!
Please check the internet late Friday night for possible time changes.
If you have any doubts please call 606 965-2087.
Rain?
Remember if it is raining where you are it might not be raining in Berea.
We will attempt to play all matches on schedule. Please be on time!
All Matches 2 out of 3 sets (super tie-breaker in lieu of 3rd set)
If consolation rounds are available, all Consolation Matches 2 out of 3 sets
(super tie-breaker in lieu of 3rd set) no-ad scoring.
(Tournaments Directors have permission to change scoring format due to
uncertain conditions that might arise).